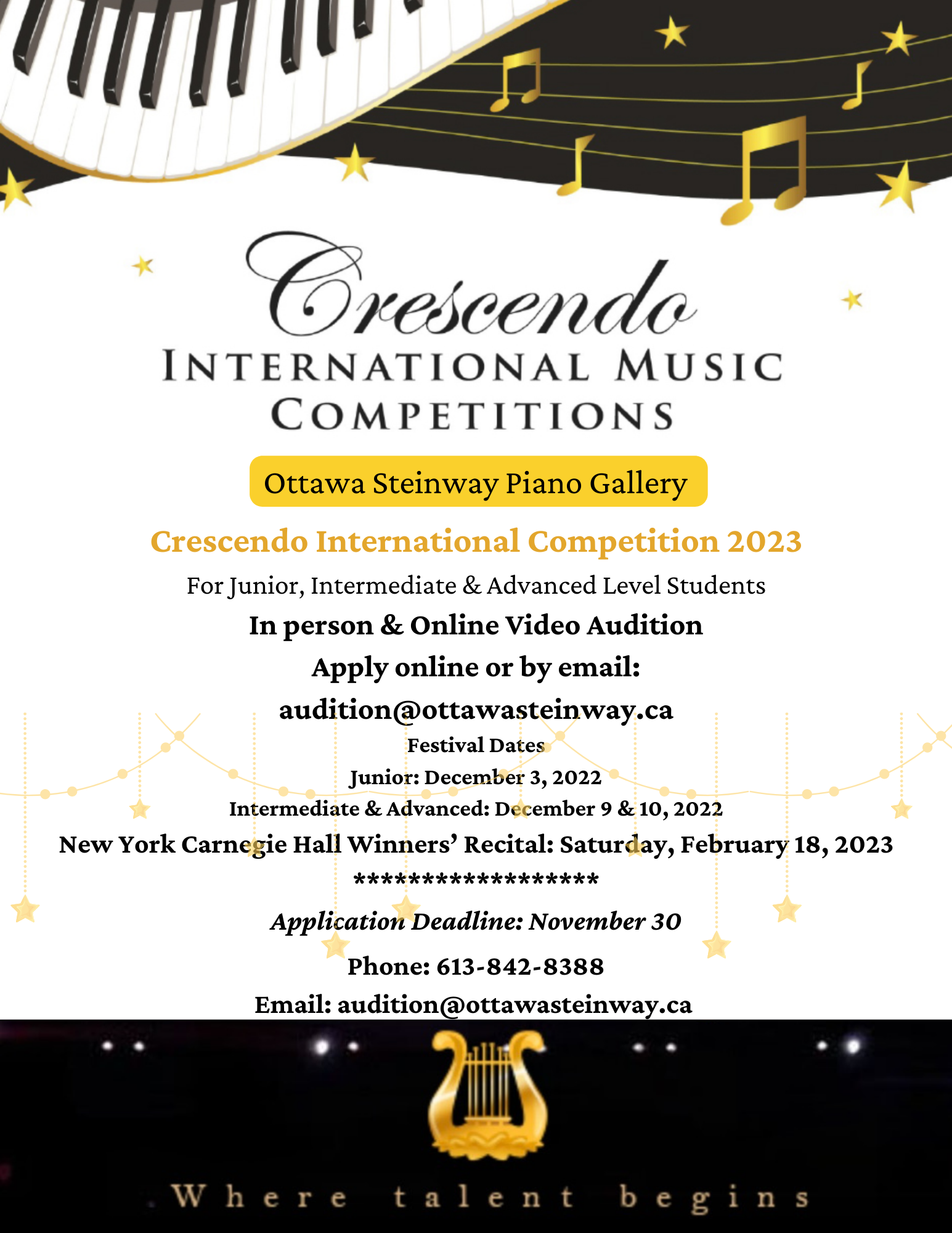 We are so excited to be announcing that we'll be hosting auditions for the annual International Crescendo Piano Competition this year at Steinway Piano Gallery Ottawa. We are thrilled to be welcoming Olivia Adams as our Junior division adjudicator and Marlene Finn as our Intermediate/Advanced Adjudicator.
Adjudicators' Bios:
Olivia Adams: https://oamusicstudios.ca/about/
Marlene Finn: https://omfa.ca/2019-adjudicators/marlene-finn/
Audition
Audition Dates
Junior: December 3, 2022
Intermediate & Advanced: December 9 & 10, 2022
Apply online or by email: audition@ottawasteinway.ca
Application Deadline: November 30, 2022
Participants will be grouped according to their age as of November 19, 2022.
5-7 y.o.
8-10 y.o.
11-14 y.o.
15-18 y.o.
19-22 y.o.
Each group will be divided into three competing categories: Junior, Intermediate or Advanced.
Classification of Divisions: using Royal Conservatory Examination grading system for reference:
Junior Division: Beginner - RCM Grade 4
Intermediate Division: RCM Grade 5 – Grade 9
Advanced Division: RCM Grade 10 and above
Maximum time limit per entry: 6 minutes
Note:
Please avoid "Fur Elise" by Beethoven and 1st Movt of Beethoven Sonata No. 14
Winners will be announced the week of December 12 and winners will be invited to compete in the finals at Carnegie Hall in New York City on February 18, 2023!
For more information, visit Crescendo International Music Competition (crescendocompetition.org)