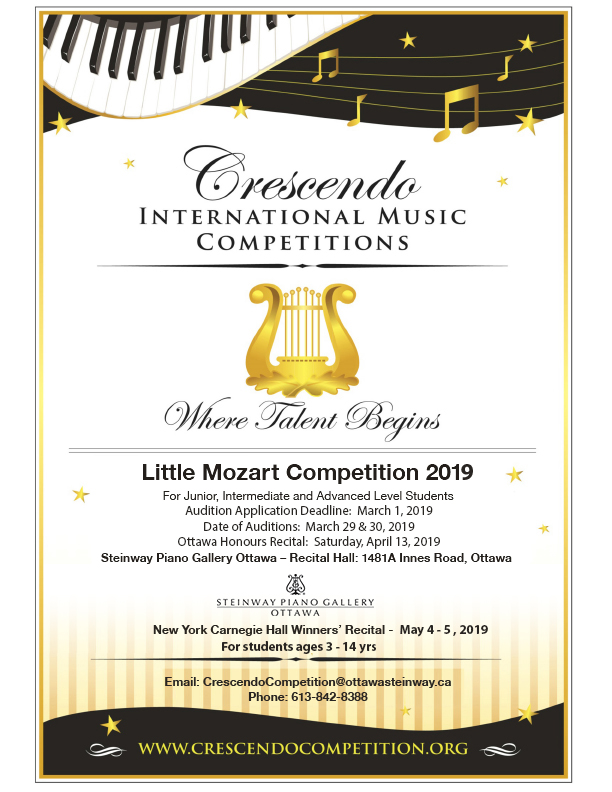 General Information
Little Mozart is an annual music competition, which is open to junior and intermediate levels for all instrumentalists, vocalists, and duets.
This unique juried music competition for 3-14 years old gives young children the opportunity to perform and receive their first applause. All participants will perform in Carnegie Hall in New York, Caldwell College, NJ and Edward M. Pickman Concert Hall at Longy School of Music, MA. All participants receive Certificates of participation.
The goal of Little Mozart Competition is to encourage and motivate young musicians and make music a more significant part of their life.
* Canadian applicants should refer to the following contacts regarding information about Auditions and Recitals:
* British Columbia applicants should refer to Mrs. Rebecca Cheng : crescendocompetition@tomleemusic.ca
Eligibility
Little Mozart Music Competition is open to all instrumentalists, duets, ensembles and vocalists ages 3 – 14.
All contestants will play in one of the three categories Junior (Elementary) or Intermediate or Advanced.
Application Procedure
An original copy of the application must be submitted via one of two options:
Completed 2019 Little Mozart Application Form accompanied with the non-refundable registration fees of $75USD in money order payable to Crescendo Competitions Inc. will be assessed. By :
In person registrations:
Bring to Steinway Piano Gallery Ottawa – Recital Hall: 1481A Innes Road, Ottawa
On-line registrations:
Register online, make your payment online. Please specify your location clearly. Crescendo Committee will send us the registrations according to locations.
To avoid any misspelling and legibility issues, we prefer to receive applications in electronic format.

C. Application Deadline: March 1, 2019.

Please use current 2019 Little Mozart Application forms.
Repertoire
One selection (performed by memory) of any composer (Baroque, Classical, Romantic, Modern) in Elementary or Intermediate Levels. We accept John Thompson, John W. Schaum Piano Course, Faber & Faber and Guild Repertoire.
Classification of Divisions: (using Royal Conservatory Exam Guidelines)
Junior Division: Beginner to RCM Grade 4
Intermediate Division: RCM Grade 5 to Grade 9
Advanced Division: RCM Grade 10 and or above
Performance time should not exceed 6 minutes. If your performance time is greater them 6 min, you will be charged an extra $100 for every additional minute in accordance to Carnegie Hall regulations.
Audition
Auditions will be held at the following locations :
March 29 & 30, 2019:
Steinway Piano Gallery Ottawa – Recital Hall: 1481A Innes Road, Ottawa
The original score will be given by the judge. No make ups will be allowed, and the ruling passed by the judge will be final.
Contestants must wear proper attire.
No parents, teachers or friends are allowed during audition.
No video typing nor recording are permitted during audition.
For out of town applicants, you may submit audio/video recording with the applications before the deadline to the Coordinator.
Recitals
First and Second place honors perform on May 4-5, 2019 at Carnegie Hall, 154 West 57th Street, New York, NY.
Ottawa Honor Concert will be on April 13 at 3:00 PM.
On the Winner's recital, student performs ONE piece, eg. one movement of Sonata/Sonatina: one selection from Partita, Suite or any ordered set of pieces
Duration of music selection should not exceed 6 minutes. Performers may be asked to stop their performance if exceeds allotted time.
Recital fees
Carnegie Hall - $240USD (incl. 4 complimentary tickets). Additional ticket - $50 USD ea., please send $50USD per ticket to Crescendo Main Office: Crescendo Competition, 9 North Main Street, Suite 4, Marlboro, NJ 07746 USA
All contestants must confirm their participation with payments before April 11, 2019.
US Checks/ USMoney Order made payable to Crescendo Competitions, Inc. and must be sent to the local representative in-person before April 11, 2019
Please note that the use of cameras, camcorders or any audio/visual recording devices is strictly forbidden by Carnegie Hall administration. To request photo click on the link http://www.crescendocompetition.org/international-competition/recitals for "Photo Order Form".
Performers must be present until the conclusion of the recital in order to participate in the award presentation. No diplomas or medals will be sent via mail.
Awards
Based on the judge's evaluations, and considering the participant's age, complexity of musical selection, and years of practice, we award our cash prizes, certificates, and medals or trophies.
First Place Honor
Second Place Honor
Third Place Honor
Honorable mention
PRIZES (monetary grants).
Cash reward fund of Crescendo International Competition now over 8,000 USD.
Total Grand Prize $250
Total First Prize $200
Total Second Prize $100
Total Third Prize $50

Additionally, 300 Cash prizes will be awarded to "Best Performance" within the performer's respective age group,
* Please, note that the award system is established in a manner which those who receive the First Place honor are not necessarily predisposed to receive a Prize. An applicant's placement does not always correspond to the Prize they receive. With that being said, only judges may promote a winner's Prize in the case of a special achievement.
Students will receive board certified diplomas and instructors will receive a certificate of excellence.
All winners are eligible to participate in the upcoming International Student Exchange Program (SEP) hosted throughout USA, Canada, Germany, Austria, Russia and China.