A Piano Performance Master Class with Robert Dvorkin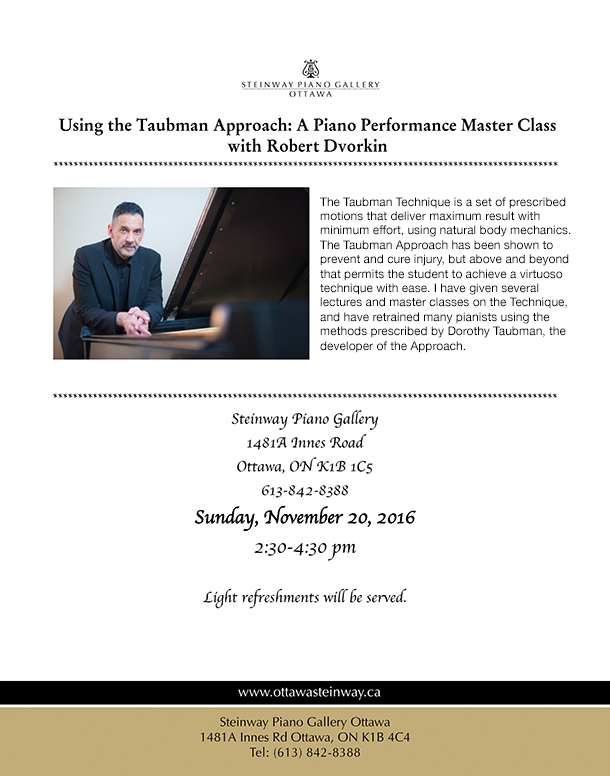 Bio
I grew up Edmonton, where I began to study piano at the age of nine. For five years, until I was 17, I studied with Ernesto Lejano. Dr. Lejano taught at the University of Alberta, but had a few private students, and I was privileged to be among them. He imbued me with a love for music that continues to this day.
From there I went to the Indiana University School of Music (now the Jacobs School of Music at Indiana University). After earnestly seeking a teacher I could relate to I settled down in the studio of Enrica Cavallo-Gulli, with whom I studied for six years. Mrs. Gulli was a consummate musician in her own right, both as a soloist and as a partner in the Duo Cavallo-Gulli with her husband, violinist Franco Gulli. It was under her tutelage that I grew as a musician. I graduated from Indiana University with Bachelor and Master of Music degrees in piano performance. After a few years in Toronto, I moved to New York in 1988, where I lived for the next 25 years.
During my time in New York, I had the great fortune to encounter the work of Dorothy Taubman, which I describe in detail on the Learn page. I began my studies of the Taubman Approach with John Bloomfield in 1999, and he continues to by my teacher and mentor to this day.
Along the way I have performed many concerts in the United States and Canada, and have participated in many masterclasses and seminars. As well I always maintained a teaching studio, helping new students to discover the Taubman Approach.
In January of 2014 I relocated to Ottawa, Ontario, Canada, where I established a music studio, and where I continue to perform, lecture and teach privately.