A Masterclass by Randy Demmon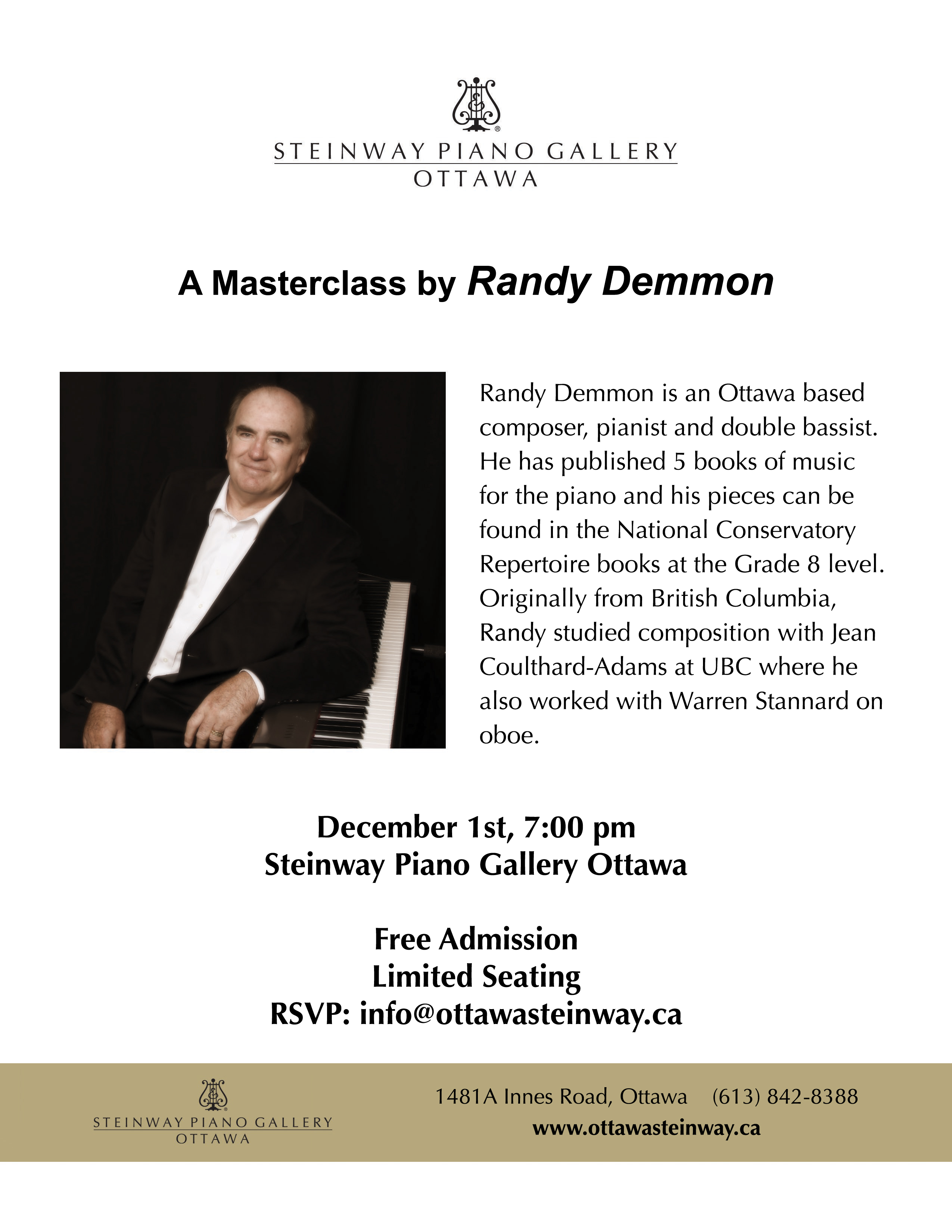 Biography
Randy Demmon is an Ottawa based composer, pianist and double bassist. He has published 5 books of music for the piano and his pieces can be found in the National Conservatory Repertoire books at the Grade 8 level. Originally from British Columbia, Randy studied composition with Jean Coulthard-Adams at UBC where he also worked with Warren Stannard on oboe.

His compositions are an enchanting mix of simple melody and somewhat complex harmonies which reflect a range of influences from classical and jazz to celtic and pop. The collections titled "Place Settings", "Place Settings II" and "Islands" contain original pieces with a variety of styles, many of which were conceived as mini tone poems, titled and linked to locations dear to the composers heart. Perhaps Randy's pieces can be thought of as being contemporary works in the tradition of Mendelssohn's "Songs Without Words".

One of the volumes "Cool Changes" contains delightful and very unique arrangements of Christmas Carols which maintain traditional melodies and mood with a more contemporary approach to harmony. These pieces as well as several of those in the other volumes are presented twice in each book, once in a fully written version and then again at the back of the book in lead sheet form. The format permits a pianist interested in learning how to improvise or alter pieces with graphic examples of how to proceed and functions as an excellent teaching aid.

The remaining volumes contain modern arrangements of songs from the Irish Songbook with lyrics by Thomas Moore. The pieces come with lyrics and can be performed on piano as well as celtic harp. Melodies such as "Last Rose of Summer" and "Minstrel Boy" rooted in the Celtic tradition remain popular today. These arrangements are modern yet accessible and useable in a variety of situations.